Security Cameras and CCTV
Security Cameras and CCTV
At CLARK BUILDING TECHNOLOGIES, we understand the critical importance of security in today's world. With our extensive experience in designing and installing security cameras, we offer top-of-the-line Security Camera and Closed-Circuit Television (CCTV) solutions to meet the unique needs of various business sectors.
Why Choose Our Security Camera and CCTV Services?
We have a proven track record of successfully designing and installing security cameras for a wide range of business sectors.
Whether you are in a commercial office, hospital or healthcare facility, local government, college campus, construction site, or any other industry, we have the knowledge and experience to provide you with the right security solution.
We understand that each business sector has its own specific security requirements.
Our team of experts will work closely with you to assess your unique needs and design a tailored security camera system.
From identifying critical areas for surveillance to selecting the appropriate camera types, we ensure that your security solution is customized to address the specific challenges of your industry.
Comprehensive
Surveillance
Our security camera and CCTV systems offer comprehensive surveillance coverage, providing peace of mind for various business sectors.
Whether you need to monitor entry points, parking lots, corridors, sensitive areas, or construction sites, our strategically placed cameras provide full visibility and help deter potential threats.
We stay updated with the latest advancements in security camera technology.
Our range of high-quality security cameras and CCTV systems offer features such as high-definition video quality, night vision capabilities, motion detection, and remote monitoring.
We ensure that your security solution is equipped with the most advanced technology to enhance your safety and protection.
Enhance the capabilities of your security camera system with AI or Analytics technology.
Our solutions can include intelligent features like facial recognition, object detection, and behavior analytics.
With AI-powered security cameras, you can automate video analysis, receive real-time alerts for specific events, and gain valuable insights for proactive security measures.
Expert Installation
and Support
Our highly trained technicians have extensive experience in installing security camera and CCTV systems for various business sectors.
With meticulous installation, optimal camera placement, and seamless integration with your existing infrastructure, we ensure that your security system operates at its best.
Additionally, we provide ongoing support and maintenance services to keep your surveillance system running smoothly.
Partner with Clark Building Technologies
for Unmatched Security
When it comes to securing your business, trust CLARK BUILDING TECHNOLOGIES as your reliable partner. With our experience in designing and installing security cameras for diverse sectors including commercial offices, hospitals or healthcare facilities, local governments, college campuses, construction sites, and more, we have the expertise to meet your specific needs.
Don't compromise on the safety and security of your premises. Contact us today to discuss your requirements, and let our experts design a tailored security camera and CCTV solution that exceeds your expectations. Together, let's create a secure environment that meets the unique demands of your business sector, enhanced by the power of AI and Analytics.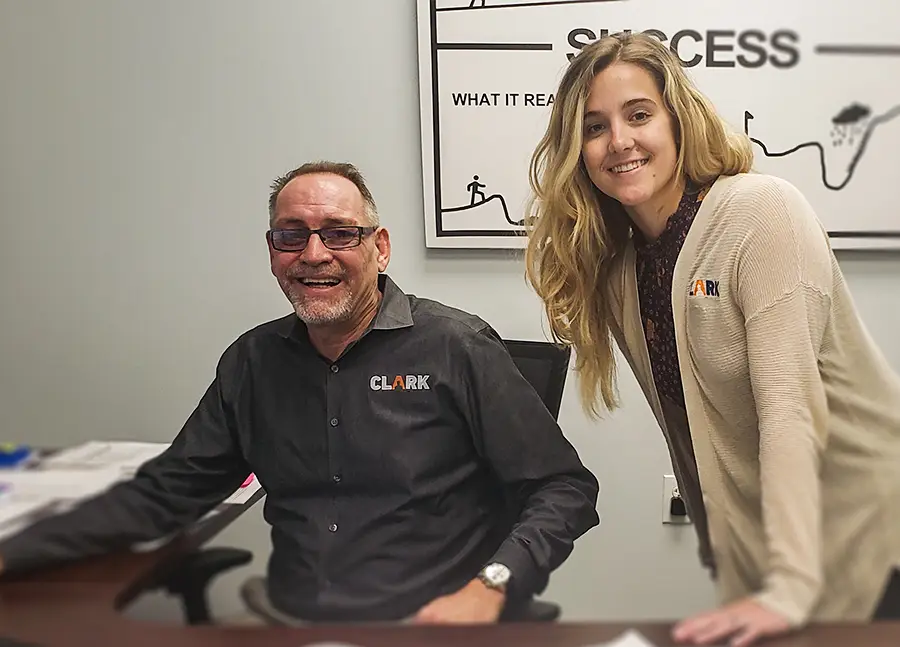 AT CLARK WE TAKE GREAT PRIDE
IN OUR MANY 5-STAR REVIEWS!
Customers all over the Baltimore-Washington Metropolitan area give Clark Building Technologies 5-Star Reviews!  Is it our Responsive service? Professional attitude? Friendly technicians? All of the above! CLARK was founded on a straightforward concept – Customer Service is our Highest Priority.
We provide white glove service to every customer every time, and you can see it in our reviews!
Don't just take our word for it, see what our clients say about Clark Building Technologies!

Tommy W
We recently hired Clark ...to install data cabling for a brand new 15,000sf office and it is the neatest/cleanest low voltage install we've ever seen. Their crew did a fantastic job and were extremely professional throughout the entire experience. We'll definitely be calling them for any future IT needs.

Justin Brady
I've been working with a few folks from Clark for almost 15 years for all my cabling needs. I've never used anyone else as the service they provide is excellent. I highly recommend them!

Anjel Scarborough
Always prompt and always knowledgeable. Clark does things right the first time!